PEL's Human Resources function embarked on an extensive transformation journey called SEEDS (Strategy for Employee Engagement and Development Support) in 2014. A core theme of this journey has been to 'create an environment where employees can thrive and are enabled to deliver sustainable organisational performance'.

PEL's people initiatives focus on enabling its diverse and global workforce to consistently deliver on the Group's purpose of 'Doing Well and Doing Good' and facilitating a value driven, high-performance culture.
The key headcount numbers are as follows: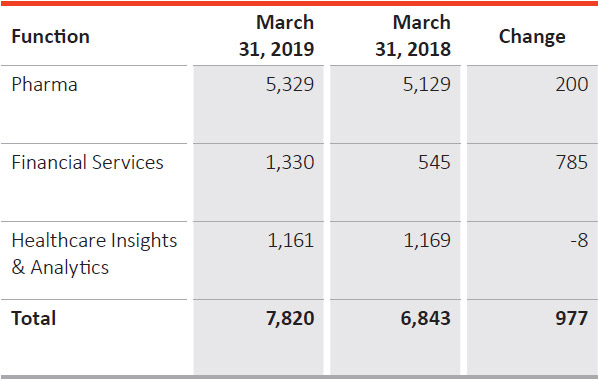 DOING WELL – ENABLING SUSTAINABLE ORGANISATION PERFORMANCE
Augmenting Performance through HR Technology
The Human Resources function has facilitated improved decision-making and real-time monitoring of the overall health of PEL's human capital by leveraging a cloud-based intelligence platform that links key business metrics to people metrics. The advent of employee-centric applications including The MyPiramal HR Management System and the Payroll application (MyPay), continues to significantly enhance employee experience. The consolidation of payrolls and payroll-related compliance has not just strengthened controls and data privacy, but has also helped optimise costs of payroll operations and payroll compliances by more than 25%.
Recognising Exceptional Value-driven Performance
Chairman's Award, a group-wide recognition framework, was launched during the year to celebrate individuals who exemplify the Group's philosophy – values create enduring value and exponential performance and impact. In the first edition of the Chairman's Award, out of 500+ nominations, 53 employees across the globe were felicitated for their exceptional contribution.
Institutionalising a Robust Leadership Pipeline
Nurturing Home-grown Leaders
The central objective of PEL's talent development initiatives is to grow our own leaders and ensure every critical role has a ready successor identified and groomed. Our high-potential development programmes are aimed at preparing our top talent to take on next-level roles:
IGNITE: The programme identifies and develops young leaders from junior management to take on mid-management leadership roles. The participants undergo an 18-month development journey that includes multiple aspects of functional and leadership learning.
ASCEND: The platform selects and grooms high-performing employees at the middle management level for senior leadership roles. High Potentials, who qualify, undergo a one-year structured development process through virtual learning platforms in partnership with Harvard Business School.
SUMMIT: The leadership programme focuses on preparing senior leaders to become successors to the CEOs of PEL businesses. Senior leaders define their own 'business mandate' – to act as true entrepreneurs of their business units or functions.