How did the NBFC sector get impacted?
Post the defaults by a large entity, liquidity tightened for the NBFC sector
A large number of HFCs / NBFCs were not getting enough liquidity
MFs reduced their exposure to NBFCs / HFCs by nearly ~

`

67,000 Crores between September 2018 and April 2019
NBFCs / HFCs witnessed a slowdown in loan disbursements
The combined loan book growth of NBFCs and HFCs slowed down significantly in Q3 and Q4 FY2019 to 18% y-o-y and 13% y-o-y respectively, from ~23% in H1 20191
HFCs' monthly average disbursement fell to

`

13,500 Crores post September 2018, as compared to

`

25,000 Crores per month in the past four quarters2
Few NBFCs / HFCs also resorted to portfolio sell downs
Few players, who were not getting enough liquidity, had to resort to portfolio sell-downs, which resulted in subdued performance of the overall sector
Notes: 1. Credit Suisse
2. India Ratings
How did PEL perform?
Raised long-term funds amounting to nearly `16,500 Crores in H2 FY2019, which is equivalent to 30% of loan book size
Reduced commercial paper (CP) exposure to `8,900 Crores as on March 31, 2019 from `18,000 Crores in September 2019
Significant increase in the share of bank loans in the overall borrowing mix
Share of bank borrowings in overall borrowings1
(%)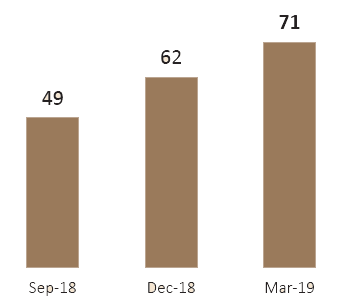 Share of mutual funds in overall borrowings1
(%)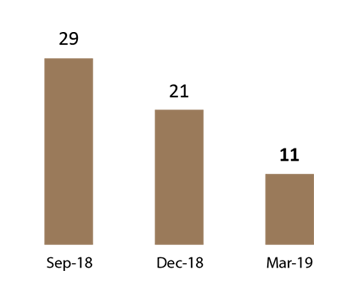 Consistent quarterly performance, with improving revenues and steady profitability throughout the year,
despite system-wide liquidity tightening
Financial Services Revenues (FY2019)
(` Crores)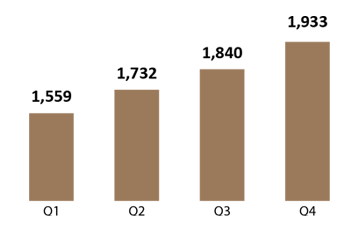 Note: 1. Data for PCHFL
2. Considering Cash Tax and other synergies from merger
Financial Services ROE2 (FY2019)
(%)